VDI Monitoring
Ensure continuous availability and optimal performance for virtual desktop infrastructures (VDIs) from different vendors.
VDI monitoring is the process of enhancing the user experience, and managing the digital experience and productivity of end users by improving VDI performance using key monitoring metrics. Obtain end-to-end visibility across resources and gain control over your VDI environment with Site24x7's VDI monitoring tool.
Manage all your virtual desktops, hypervisors, networks, and other infrastructures from a single console for comprehensive VDI and Desktop as a Service monitoring.
Start 30-day free trial

Try now, sign up in 30 seconds
Why monitor desktop virtualization?
Virtual desktops are preconfigured virtual spaces that contain operating systems and applications in a desktop environment. They are separated from physical hardware and allow users to access applications remotely over secure networks. The back end of these services is a group of servers (host pools or desktop pools) that are hosted in a data center that's run by a vendor, like AWS or Azure, or privately owned. With virtualization comes challenges involving compute, network, and storage; to address these obstacles, your resources and infrastructure have to be thoroughly monitored. VDI monitoring is essential to:
Keep track of the network to avoid poor connections and slowness as an entire desktop's data is shared over it.
Assess the user experience by measuring latency, sessions, and VM performance.
Optimize resource utilization and ensure proper capacity planning, as unused or underutilized licenses waste money.
Monitor virtual desktops across platforms and vendors
Obtain end-to-end visibility into the performance of your virtualized remote desktops and applications using Site24x7's VDI monitoring tool. It supports:
Enhance the operational efficiency of your VMware Horizon environment
Closely track client-server connections, desktop pools, application pools, VMs, sessions, and connections to verify if resource utilization is optimal. Identify slow resources as well as sessions with high login times, both of which are likely to cause a poor user experience, using performance metrics.
Analyze the health of associated resources and easily identify the root cause of failures with VMware VDI monitoring.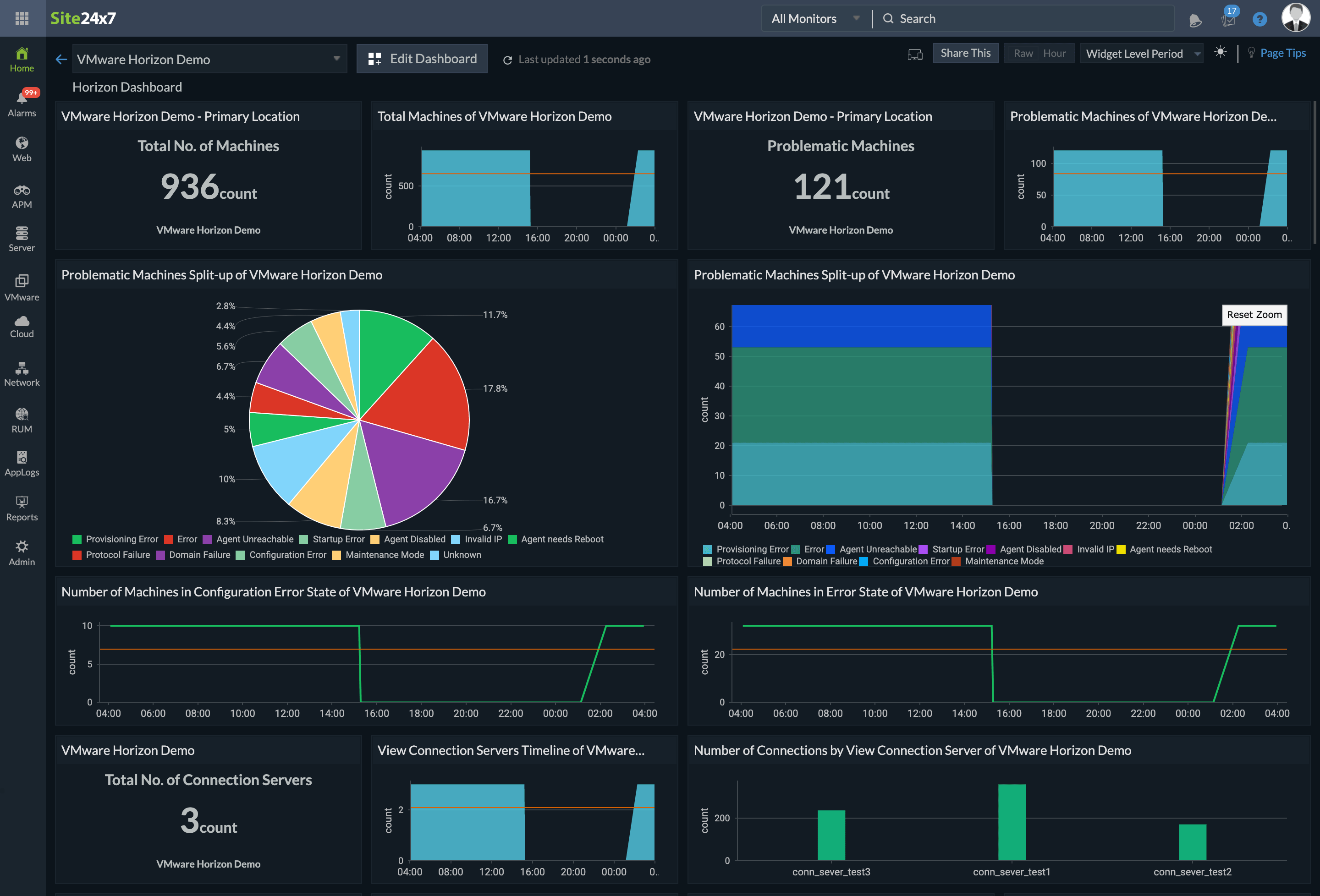 Uncover malicious activity by tracking Amazon WorkSpaces performance
Gain deep visibility into user login sessions, in-session latency, session launch time, disconnected sessions, and more metrics with Amazon WorkSpaces monitoring. Analyze performance trends over time, and uncover malicious activity by tracking connection attempts, specifically the number of failed connections.
Configure automations to start, stop, reboot, and rebuild your WorkSpaces to stay on top of system errors and minimize costs.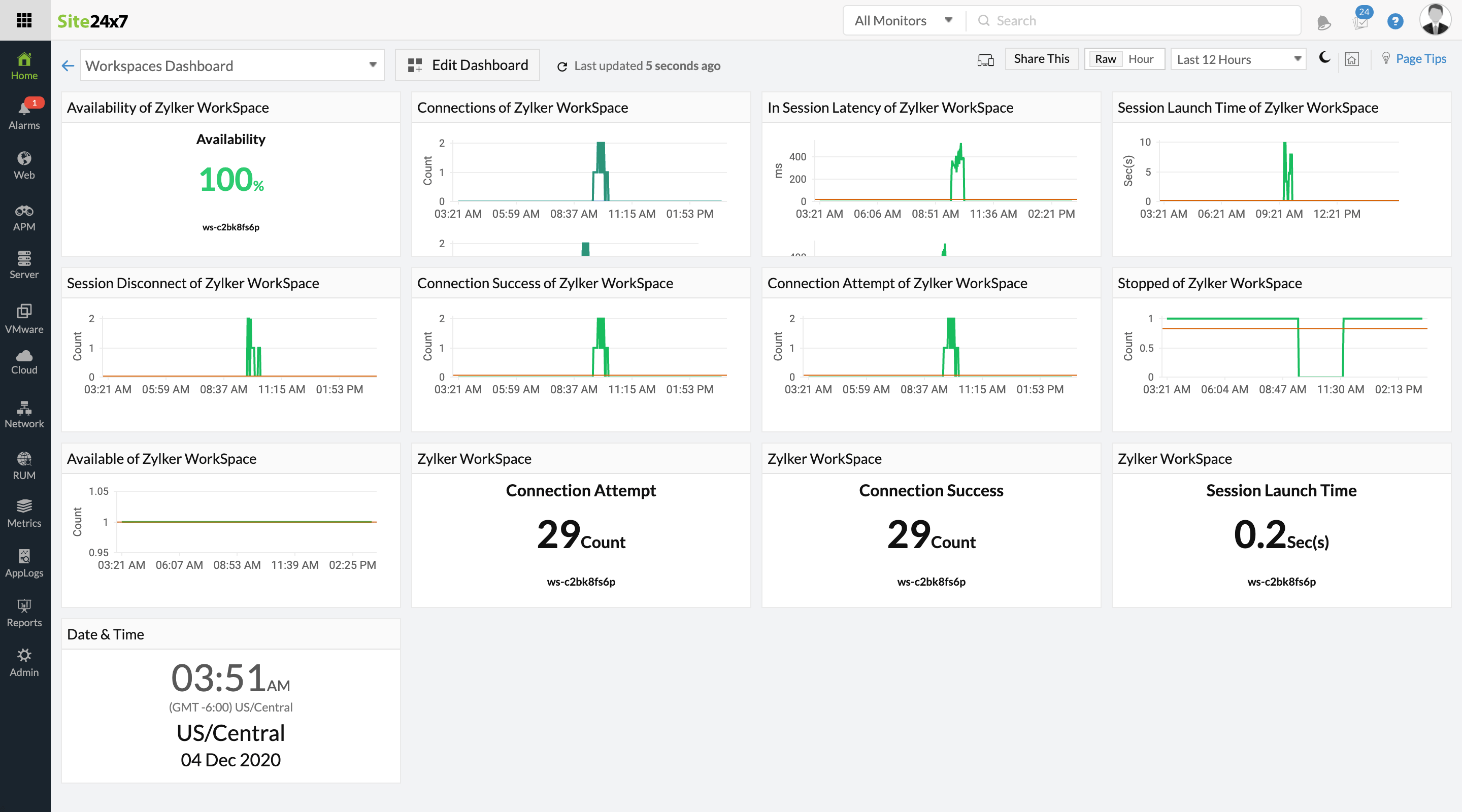 Monitor your Azure WVD resources and activity
Get real-time insights into your sessions usage, the health of your hosts under the host pools, and critical system metrics for every host in the host pool, like CPU, memory, and disk read/write, with Windows Virtual Desktop monitoring. Track the health of your entire host pool based on the availability of session hosts and session usage. Monitor resources and activity logs to understand how host pools are used.
Detect unusual spikes in critical metrics with Site24x7's AI-based anomaly framework, and auto-resolve performance issues with IT Automation.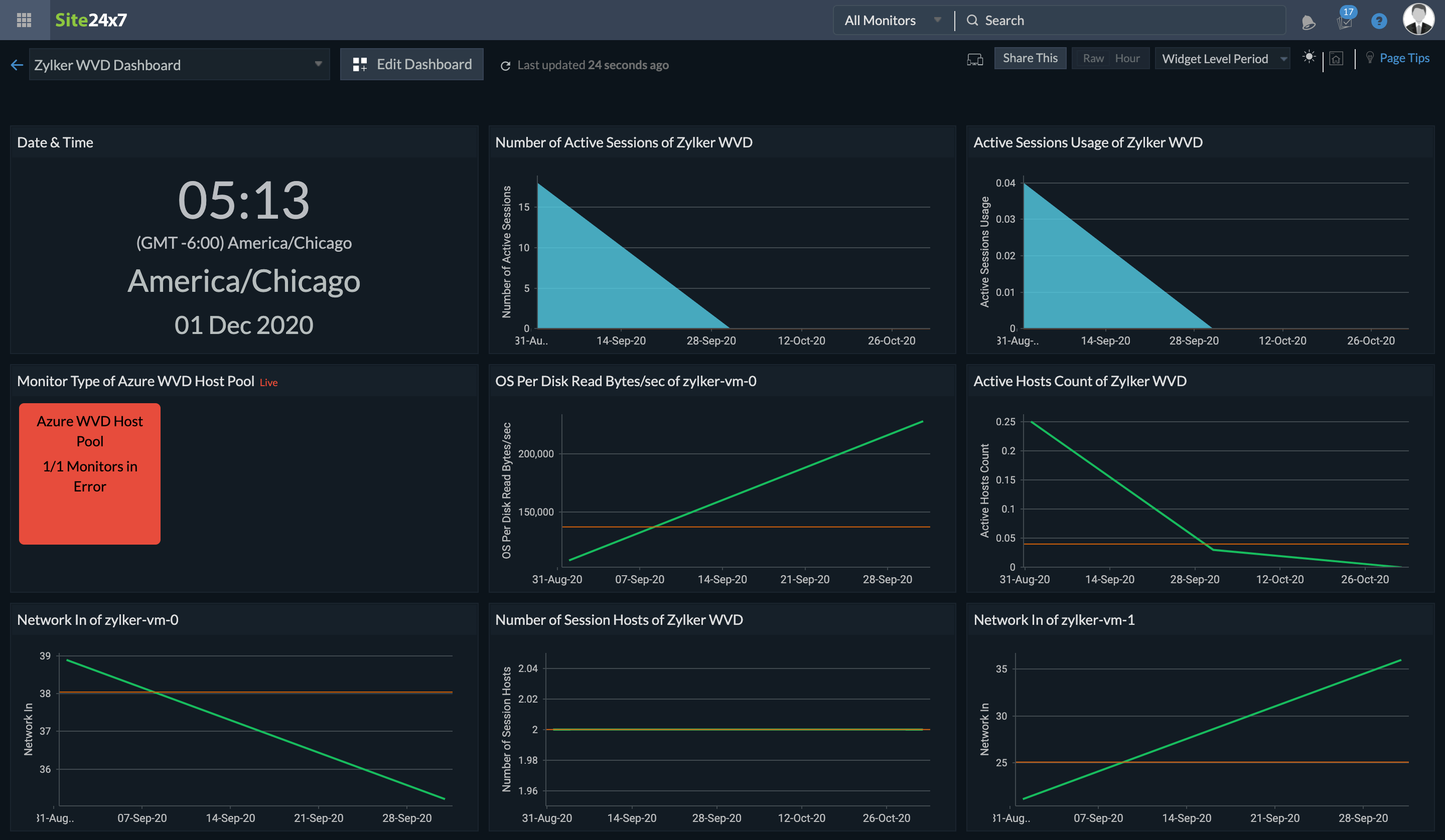 The right VDI monitoring tool
Versatile Alerting
Get alerted via SMS messages, emails, voice calls, push notifications, or RSS feeds whenever your configured thresholds are breached.
IT Automation
Stay ahead of potential problems by creating an automation profile in advance to act on a known response triggered by your infrastructure.
Flexible Integrations
Integrate with leading collaboration tools like Slack, Microsoft Teams, Jira, and ConnectWise, and customize alerts the way you want.
Plugin Integrations
Use our plugin integrations for MySQL, Apache, Nagios, and more or write your own plugin to monitor critical attributes as needed.
Mobile App
Access resource status details from anywhere by monitoring your infrastructure on the go with our Android and iOS apps.
Dashboards and Reports
Create custom reports, dashboards, NOC views, and business views highlighting key metrics that affect your VDI performance.